Over 62,000 QNAP NAS Devices Hit By QSnatch Data-Stealing Malware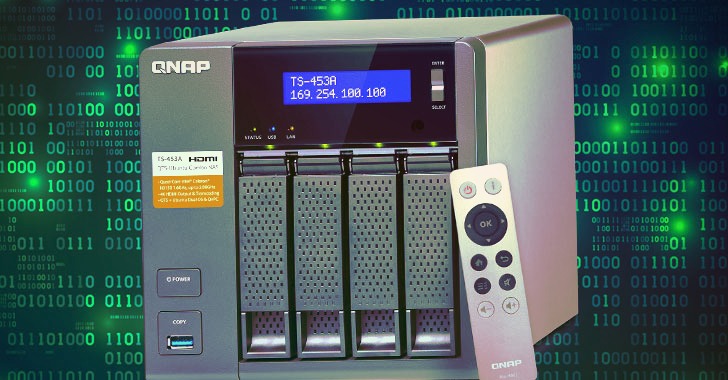 Cybersecurity agencies in the US and UK yesterday issued a joint advisory about a massive ongoing malware threat infecting Taiwanese company QNAP's network-attached storage (NAS) appliances.
Called QSnatch (or Derek), the data-stealing malware is said to have compromised 62,000 devices since reports emerged last October, with a high degree of infection in Western Europe and North America.
"All QNAP NAS devices are potentially vulnerable to QSnatch malware if not updated with the latest security fixes," the US Cybersecurity and Infrastructure Security Agency (CISA) and the UK's National Cyber Security Centre (NCSC) said in the alert.
"Further, once a device has been infected, attackers can prevent administrators from successfully running firmware updates."
The mode of compromise, i.e., the infection vector, still remains unclear, but CISA and NCSC said the first campaign likely began in 2014 and continued till mid-2017 before intensifying over the last few months to infect about 7,600 devices in the US and approximately 3,900 devices in the UK.
Over 7,000 NAS devices were targeted with the malware in Germany alone, according to the German Computer Emergency Response Team (CERT-Bund) as of October 2019.
Although the infrastructure used by the bad actors in both campaigns is not currently active, the second wave of attacks involves injecting the malware during the infection stage and subsequently using a domain generation algorithm (DGA) to set up a command-and-control (C2) channel for remote communication with the infected hosts and exfiltrate sensitive data.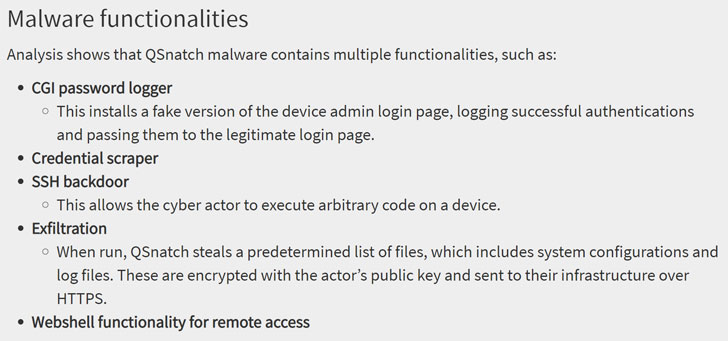 "The two campaigns are distinguished by the initial payload used as well as some differences in capabilities," the agencies said.
The latest version of QSnatch comes with a broad range of features, including a CGI password logger that uses a fake admin login screen to capture passwords, a credential scraper, an SSH backdoor capable of executing arbitrary code, and a web shell functionality to access the device remotely.
In addition, the malware gains persistence by preventing updates from getting installed on the infected QNAP device, which is done by "redirecting core domain names used by the NAS to local out-of-date versions so updates can never be installed."
The two agencies have urged organizations to ensure their devices have not been previously compromised, and if so, run a full factory reset on the device before performing the firmware upgrade. It's also recommended to follow QNAP's security advisory to prevent the infection by following the steps listed here.
"Verify that you purchased QNAP devices from reputable sources," CISA and NCSC suggested as part of additional mitigation against QSnatch. "Block external connections when the device is intended to be used strictly for internal storage."
[ad_2]
Is your business effected by Cyber Crime?
If a cyber crime or cyber attack happens to you, you need to respond quickly. Cyber crime in its several formats such as online identity theft, financial fraud, stalking, bullying, hacking, e-mail fraud, email spoofing, invoice fraud, email scams, banking scam, CEO fraud. Cyber fraud can lead to major disruption and financial disasters. Contact Digitpol's hotlines or respond to us online.
Digitpol is available 24/7.
Email: info@digitpol.com
Europe +31558448040
UK +44 20 8089 9944
ASIA +85239733884