Microsoft has patched a worm-like vulnerability in its Teams workplace video chat and collaboration platform that could have allowed attackers to take over an organization's entire roster of Teams accounts just by sending participants a malicious link to an innocent-looking image.
The flaw, impacting both desktop and web versions of the app, was discovered by cybersecurity researchers at CyberArk. After the findings were responsibly disclosed on March 23, Microsoft patched the vulnerability in an update released on April 20.
"Even if an attacker doesn't gather much information from a Teams' account, they could still use the account to traverse throughout an organization (just like a worm)," CyberArk's Omer Tsarfati said.
"Eventually, the attacker could access all the data from your organization's Teams accounts — gathering confidential information, meetings and calendar information, competitive data, secrets, passwords, private information, business plans, etc."
The development comes as video conferencing software such as Zoom and Microsoft Teams are witnessing an unprecedented surge in demand as businesses, students, and even government employees across the world are forced to work and socialize from home during the coronavirus pandemic.
A Subdomain Takeover Vulnerability
The flaw stems from the way Microsoft Teams handles authentication to image resources. Every time the app is opened, an access token, a JSON Web Token (JWT) is created during the process, allowing a user to view images shared by the individual or others in a conversation.
CyberArk researchers found that they were able to get hold of a cookie (called "authtoken") that grants access to a resource server (api.spaces.skype.com), and used it to create the aforementioned "skype token," thereby giving them unfettered permissions to send messages, read messages, create groups, add new users or remove users from groups, change permissions in groups via the Teams API.
That's not all. Since the authtoken cookie is set to be sent to teams.microsoft.team or any of its subdomains, the researchers said they discovered two subdomains (aadsync-test.teams.microsoft.com and data-dev.teams.microsoft.com) that were susceptible to takeover attacks.
"If an attacker can somehow force a user to visit the subdomains that have been taken over, the victim's browser will send this cookie to the attacker's server, and the attacker (after receiving the authtoken) can create a skype token," the researchers stated. "After doing all of this, the attacker can steal the victim's Team's account data."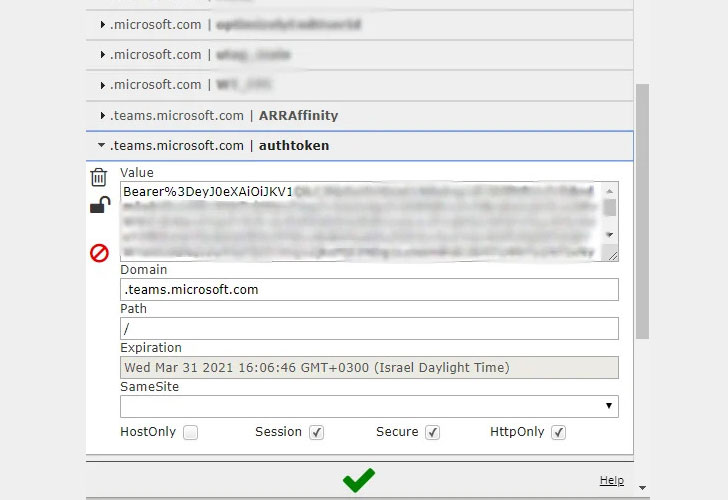 Now armed with the compromised subdomains, an attacker could exploit the flaw by just sending a malicious link, say a GIF, to an unsuspecting victim, or to all members of a group chat. Thus when the recipients open the message, the browser attempts to load the image, but not before sending the authtoken cookies to the compromised sub-domain.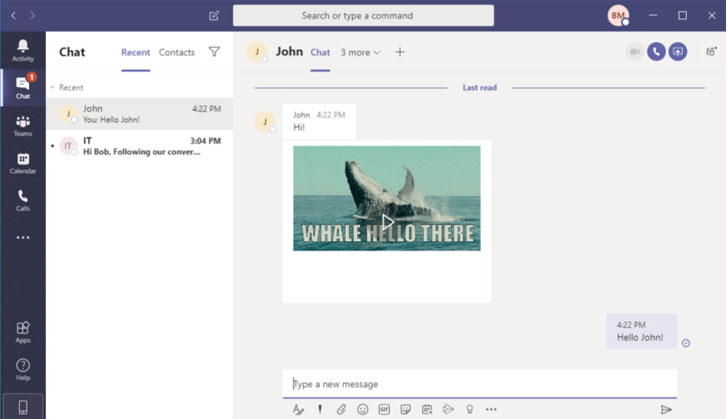 The bad actor can then abuse this authtoken cookie to create a skype token and therefore access all the victim's data. Worse, the attack can be mounted by any outsider as long as the interaction involves a chat interface, such as an invitation to a conference call for a potential job interview.
"The victim will never know that they've been attacked, making the exploitation of this vulnerability stealthy and dangerous," the researchers said.
Videoconferencing Company-Themed Attacks on the Rise
The shift to remote work amidst the ongoing COVID-19 pandemic and the increased demand for video conferencing services have become a lucrative tactic for attackers to steal credentials and distribute malware.
Recent research from Proofpoint and Abnormal Security uncovered social engineering campaigns asking users to join a Zoom meeting or address a Cisco WebEx security vulnerability by clicking on malicious links that are designed to steal login credentials.
In the face of such emerging threats, it's recommended that users watch out for phishing scams and ensure video conferencing software is kept up-to-date.
Is your business effected by Cyber Crime?
If a cyber crime or cyber attack happens to you, you need to respond quickly. Cyber crime in its several formats such as online identity theft, financial fraud, stalking, bullying, hacking, e-mail fraud, email spoofing, invoice fraud, email scams, banking scam, CEO fraud. Cyber fraud can lead to major disruption and financial disasters. Contact Digitpol's hotlines or respond to us online.
Digitpol is available 24/7.
Email: info@digitpol.com
Europe +31558448040
UK +44 20 8089 9944
ASIA +85239733884 <br